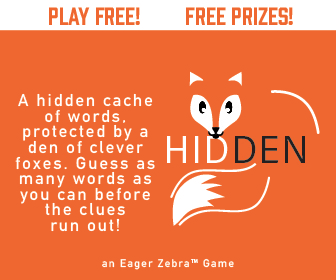 In HIDDEN™, a cache of words are protected by a den of clever foxes. Your objective: "Outfox" the foxes and guess as many words as you can before the clues run out, while keeping your eyes peeled for valuable rare red, silver, and white foxes!
Start a game and you'll see your first word appear.  Your adversaries, the foxes, however, will be obscuring all but one letter.
Immediately below the word you're attempting to guess is a hint for the word.  If you think you know the word, click the "GUESS" button and submit your guess.  Caution: If at any time you guess wrong, you lose 50 Prize Points and one Clue…and when you run out of Clues, the game is over.
If you're not confident in your guess, you'll want to use one of the 30 free Clues each game starts with.
The blue Clue button provides a RANDOM hint (it will either display another letter or give you another word hint) and costs one (1) Clue.
The green Clue button allows you to choose the next letter you want revealed.  Revealing a LETTER costs two (2) Clues.
Continue play, using as many clues as you want, until you think you know what the word is.  Then click the "GUESS" button and submit your guess.  A successful guess scores you points and presents a new word to guess.  Complete 10 words in a single game to achieve a coveted "Outfox."
TIP: After a successful word guess, you may purchase additional Clues.  Ten Clues cost just 1 TCredit.  You may purchase Clues a maximum of one time per game. These Clues expire 1 week from the purchase date.

---
We advertise business and promote it on our website. Contact us for more details:
For any kind of inquiry, please WhatsApp your contact details on mobile number +91-9780495288.